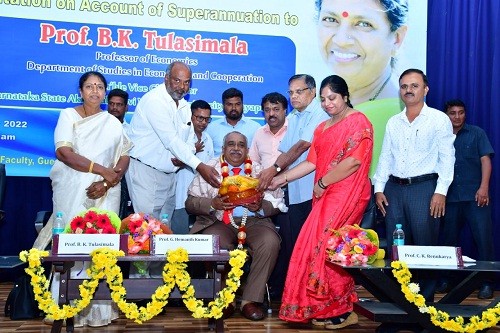 Mysuru, May 31, 2022 (www.justkannada.in): Prof. G. Hemanth Kumar, Vice-Chancellor, University of Mysore today said that there is shortage of teaching staff in several varsities in the state and in several varsities there are no permanent lecturers at all.
He participated in a program organized to felicitate Prof. B.K. Tulasimala, Vice-Chancellor, Akkamahadevi University, organized by the Department of Economics and Cooperation, held at the Vignana Bhavana in Manasa Gangotri campus.
"The number of students in the Universities is increasing. But unfortunately the number of teaching staff has decline. Many departments have only one lecturer and many departments lack permanent professors. Varsities are also not getting sufficient grants from the government," he observed.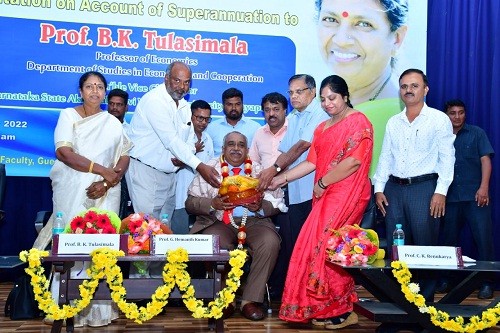 "Achievement doesn't come easily. It comes only through hard work. We will get everything if there is discipline in our lives. We will face several challenges at every phase of our lives. Prof. B.K. Tulasimala has contributed a lot to the education sector. She has served for 3 decades. Though her varsity limits is small, administration limits is vast. Prof. B.K. Tulasimala has served two years as Vice-Chancellor and two years as registrar. She was a voracious reader. A teacher can reach higher positions only if he/she is an achiever," he added.
A 17 minute duration video on the life and achievements of Prof. B.K. Tulasimala was shown on the occasion. Pooja Bhagwat Memorial Mahajana Post Graduate Center Director Prof. C.K. Renukacharya, Economics and Cooperation Department Head Prof. Mahesh and others were present.
Keywords: University of Mysore/ Prof. G. Hemanth Kumar/ Prof. B.K. Tulasimala/ felicitation